"I practised as a full-time music therapist for 20 years, mainly in the field of adult mental health as part of a large NHS mental health trust. It was during this period that I began to combine my clinical role with supporting the development of the profession. Along with another colleague, we developed a new MA course at
Anglia Ruskin
. This course became the first masters course in music therapy in the UK. I continued to work as a music therapist and today, we have our own new state of the art
music therapy centre
at Anglia Ruskin, where we not only train students, but also deliver clinical work with local children and adults, as well as lead a pioneering research department.
I have always been passionate about the potential for music to change people, situations, and particularly to help communication when words are not available. I am a singer, pianist and violinist and using live music has been central to my work where music is used to work towards therapeutic change for adults with a variety of mental health problems including dementia, schizophrenia, depression and personality disorder.
Latest studies show both that music affects the brain positively, and also that regular music therapy sessions reduce agitation and anxiety, and the need for medication for people with dementia. Leaving someone without the power to communicate is not right – music has the power to address that. Music therapy addresses the emotional, physical and intellectual needs of people with dementia and I have just begun talks with the local
NHS
trust where I work about referring more people with dementia for music therapy."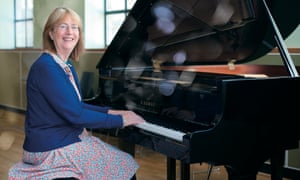 Helen Odell-Miller @
The Guardian